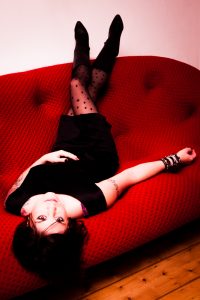 Pepe le Moko has been plucking the bass guitar for various indie rock, pop and blues artists for over 20 years. Fans of 80s indie rock will remember her as the bass player for The Wedding Present with whom she toured all around the world from the USA, Australia and Asia to mainland Europe, UK and Ireland.
She played major festivals such as Primavera Sound Festival, SXSW, Off Festival and played in venues of up to 3,000 people capacity. Radio experience includes numerous live sessions for the BBC, KEXP and WNYC in the USA and various major European radio stations.
Pepe played and contributed writing on The Wedding Present's studio album "Valentina", produced by Andrew Scheps (U2, Adele, Red Hot Chili Peppers). Other studio work include collaborations with producers such as Jimmy Napes (Sam Smith, Eliza Doolittle) and Dean James (Plan B, Ellie Goulding, GetCapeWearCapeFly).
Lovers of Blues and Soul would have seen Pepe on stage with guitar virtuoso and vocalist Ben Poole as part of his trio, four piece and six piece line up. Extensive touring in continental Europe and the UK with the Ben Poole Band included highlights such as the Blue Balls Festival in Luzern and Gdynia Blues Festival.
Pepe further collaborated with SiSSi, the solo project of indie fashion icon Liz Neumayr (Ladyfuzz, co-writer for Bloc Party). Other projects include noisy grungers The Evil Son, Americana project Ron Eagle and Dinimisk, her current experimental trio with Sam Beer-Pearce & Dylan Beattie.
Whilst her signature sound is an overdriven gritty driving bass on a P Bass, her recent work features the balanced warm sound of her Spitfire by GB Guitars.